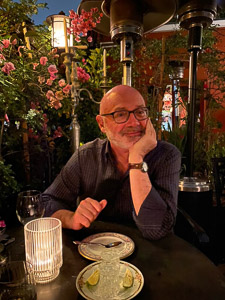 Having experienced only a few long-ago months of formal art training, I see myself as a mostly self-taught artist. Thus, the development of technique is of special importance to me.

My work is representational, with a refined technique serving not simply to create a window to the subject but as a self-conscious means to create an effect evoked by the subject, whether it's a sense of human presence, the mysterious beauty radiated by an object in unusual circumstance, or otherwise any sense of "resonance" that the subject might emanate in perhaps a minor key. This makes my choice of subject crucial.

I choose images that strike me, finding them on the internet, in other media, or sometimes in my own photographs. The idea is to reveal and perhaps heighten whatever it is that separates the image from others and makes the image "appeal" to us.
After my time as a fine arts major at the University of Colorado, my urge to make visual art fell into dormancy as my attention shifted to literature, leading me to a Ph.D. in American Literature at the University of Iowa.

Only when I hit a rough patch during my early '60s did my urge to draw return with a vengeance, leading to the pieces that you see here.
Get In Touch With the Artist and Enquire Regarding Purchase of Jim's Works